View All Bundles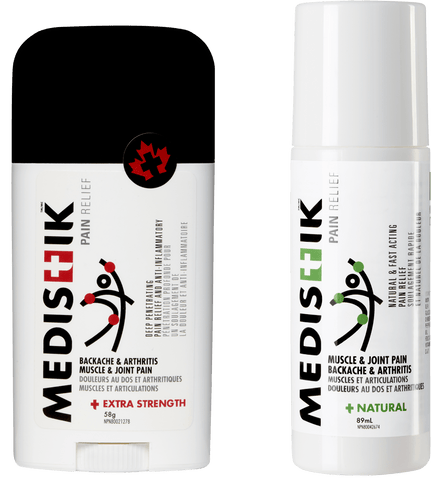 1 Stick, 1 Roll-on
Approved sizes for carry-on luggage when traveling via airplane
Assists with acute and chronic muscle and joint pain, and pain from arthritis by focusing on inflammation as the source of pain
Free from colors, parabens and phthalates
Made in Canada
THE STRONG ONE
Trusted by Professionals
Award Winning
Made in Canada
Free Shipping
What's In the EZ Travel Bundle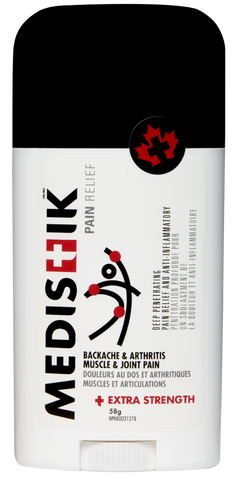 THIS BUNDLE INCLUDES:
1 LONG LASTING – EXTRA STRENGTH STICK
Use: Fast acting, helps to prevent, relieve and heal severe acute and chronic muscle and joint pain, by reducing inflammation as the source of pain.
Action: Dual Action Hot-Cold Formula
46% Active Ingredients: 30% Methyl Salicylate*, 15% Menthol, 1% Eucalyptus Oil
Other Ingredients: Paraffin Wax, Hydrogenated Castor Oil, White Petrolatum, Oleic Acid 700, BHT.
Size: 58g Solid Stick
DO NOT USE IF ALLERGIC TO SALICYLATES
Click here for full product information, facts, instructions and cautions

THIS BUNDLE INCLUDES:
1 RAPID COOLING ICE ROLL-ON
Use: Fast acting relief of severe acute and chronic muscle and joint pain, while targeting inflammation.
Action: Cryotherapy Cooling
16% Active Ingredients: 10% Menthol, 4% Camphor
Other Ingredients:  2% Peppermint Oil*, Denatured Alcohol, Water, Glycerin, Acrylates Copolymer, MSM, Ilex Paraguariensis Leaf Extract, Glucosamine, Chondroitin, Folic Acid, Vitamins C & D
Size: 89ml Roll-On Liquid
Click here for full product information, facts, instructions and cautions
WHAT OUR CUSTOMERS ARE SAYING.
Best muscle reliever
I have had three orders of the past couple years of this amazing product. I had the "deodorant stick" version twice and this time I ordered the combo. Both are excellent for relaxing muscles and releasing tightness. Not messy, easy for travel and I always have it on hand . Have given to family members too!
I'm using the solid stick
I love it, I use it every day
Real relief
I use all three MEDISTIK pain relief products. The spray is especially helpful for areas like my back that are harder to reach. The roll-on is really effective for my feet and less intense aches. The stick I use alone as well as a topper for both the spray and stick—it seems to seal in the first application and also gives that extra boost of pain relief. I suffer from arthritis, fibromyalgia, neuropathy and other foot and pain issues, and MEDISTIK has been a lifesaver for me, especially when meditation isn't enough. I appreciate the natural pain relievers and that the products are made in Canada! I only wish you sold discount bundles of all three that include the same number of roll-ons, or the spray and roll-on as a set, because the bottles seem to empty faster than the sticks. The sales are greatly appreciated, for sure! I use at least one form of MEDISTIK to get through virtually every day. I've gifted them to family members and they are now buying MEDISTIK too! Thank you!
Working well
Got it for my wife. Has knee pain and foot issues around ankles. It's working as promised. We very pleased. Now I'm using it on arthritic toes. It's definitely helping.