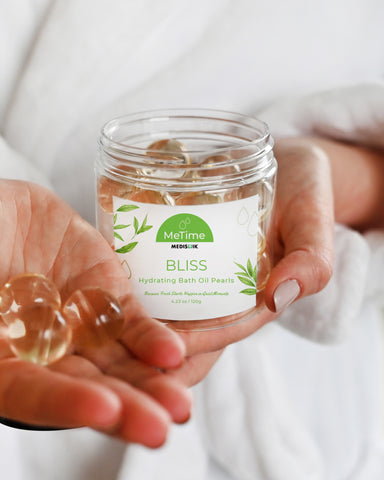 DIVE INTO A BATH OF SHEER MOISTURIZING LUXURY
Intense Hydration: Experience unmatched hydration with our oil pearls, renewing and refreshing your skin to its radiant best.
Soothing Sanctuary: The aromatic herbal blend envelops you, offering a tranquil escape and solace from the challenges of daily life.
Reflect & Realign: Let the serene ambiance encourage a deeper introspection, helping you to realign with your true essence and intentions.
Effortless Indulgence: Elevate your personal time; with a mere 2-4 pearls, transform your bath into a lavish ritual.
Continue the Bliss: After your bath, amplify the calming effect with the MEDISTIK Relaxing Mask. Heat and use the plush side for best results. To address muscle tension or headaches, swipe the MEDISTIK Roll-on* onto your neck for immediate relief.
*CAUTION: Wait at least 30-60 minutes post-bath to cool before application.
THE STRONG ONE
Trusted by Professionals
Award Winning
Made in Canada
Free Shipping
PRODUCT INFORMATION
Ingredients: Herbal Blend Oils, Water, Mineral Oil, Gelatin, Glycerin
Experience unparalleled hydration, renewing and revitalizing your skin to its radiant best.
Add 2-4 pearls to warm water for an aromatic, spa-inspired retreat. Soak for 15-20 minutes or as desired.
For external use only. Avoid contact with eyes. Discontinue use if any adverse reaction accurs. Keep out of reach of children.
If you plan to use MEDISTIK PainRelief Stick, Spray, or Roll-on for body relief, wait at least 30-60 minutes after your bath to cool down before applying these products.