View All Bundles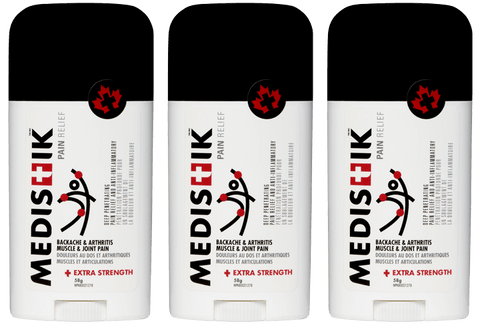 3 PACK: LONG LASTING EXTRA STREGTH STICKS
One of the strongest non-prescription topical pain reliever available
Long-lasting extra strength formula for serious pain management
Assists with acute and chronic muscle and joint pain, and pain from arthritis by focusing on inflammation as the source of pain
May reduce inflammation with 30% Methyl Salicylate, a topical Non-Steroidal Anti-Inflammatory Drug (NSAID)
Easy to use solid formula in a no mess stick applicator
Free from colors, parabens and phthalates
THE STRONG ONE
Trusted by Professionals
Award Winning
Made in Canada
Free Shipping
WHAT OUR CUSTOMERS ARE SAYING.
Great product that really works.
I found this product through Zoomers magazine and have loved it! I suffer from arthritis in my knees and I also experience back aches. The Medistik works every time - providing relief without an unpleasant smell. Have recommended it to friends and family because it is effective.
Awesome product!
My husband and I both use Medistik for our pain and so we purchase the bundle of 3. It provides great relief for our arthritis pain and aches and saves us money as well!
Highly recommend!!!
This stuff works so well!! It's incredible!
Did not receive order yet