View All Bundles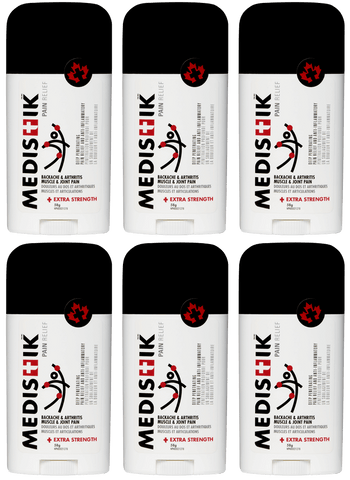 6 PACK: LONG LASTING EXTRA STREGTH STICKS
One of the strongest non-prescription topical pain reliever available
Long-lasting extra strength formula for serious pain management
Assists with acute and chronic muscle and joint pain, and pain from arthritis by focusing on inflammation as the source of pain
May reduce inflammation with 30% Methyl Salicylate, a topical Non-Steroidal Anti-Inflammatory Drug (NSAID)
Easy to use solid formula in a no mess stick applicator
Free from colors, parabens and phthalates
THE STRONG ONE
Trusted by Professionals
Award Winning
Made in Canada
Free Shipping
WHAT OUR CUSTOMERS ARE SAYING.
Used for a number of years!
Both my wife and I have used this product for a number of years Twice we ordered a 12 pack. Great for all those sore stiff muscles, especially as we've aged! have recommended and given to others.
Medistik in the Black and White case
When I looked at your ad I believe I saw it said 46% medicinal just like the one that is in the white with red case which is so good. So because it was such a good deal I ordered it. Yes it is good but it does not have 46% medicinal but I see 30% in the list of ingredients. I was disappointed. It does work but does not have the strength of the one I originally got for you. Maybe the good price this one has compared to the White and Red one makes this okay.
Love this product. Use it on my back all the time. Bought for gifts too.
Stocking gifts
I have used both the spray & stick with great results. I bought the 6 pack of sticks for my grandsons Christmas stockings. They are both in baseball & use it for training.
A sore knee
A friend of mine suggested I try the Medistik on my knee, I have bone spurs which are caused by arthritis. I have been told they are not bad enough to do any surgery, I purchased 1 of the Medistik and tried it and it helped a lot, so I decided to order more. It is great to have a product that relieves the pain. My sister and her husband are now using it too.