View All Bundles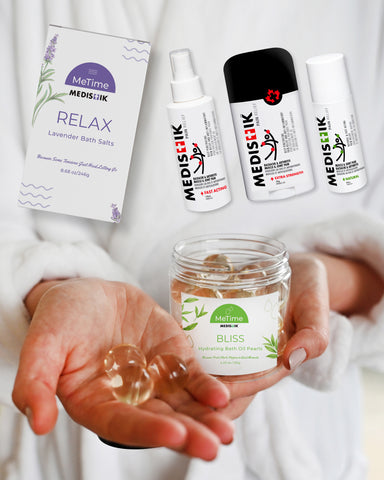 1X Lavender Bath Salts, 1X Bath Oil Pearls, 1x Stick, 1x Spray, 1x Roll-on
EMBRACE MINDFULNESS ON YOUR PAIN-FREE JOURNEY
In this fast-paced world, pausing for oneself feels like a luxury. The Mind & Body Bundle combines MEDISTIK PainRelief's ease from pain with MEDISTIK MeTime's mental relaxation. It's our curated approach to a balanced body and mind.
Mind & Body in 3 Steps:
Relax: Immerse in a bath infused with Bath Salts or Hydrating Pearls, setting tranquility for 15-20 minutes.
Relieve: Choose the Spray* for immediate pain, the Stick* for muscle comfort, and the Roll-on* for head ease.
Recenter: Close your eyes, breathe deeply, and embrace a moment of mindfulness.
*CAUTION: Wait at least 30-60 minutes post-bath to cool before application.
Experience the harmony of a pain-free body and a tranquil mind. Order the Mind & Body Bundle today.
THE STRONG ONE
Trusted by Professionals
Award Winning
Made in Canada
Free Shipping
WHAT'S IN THE Mind & Body Bundle